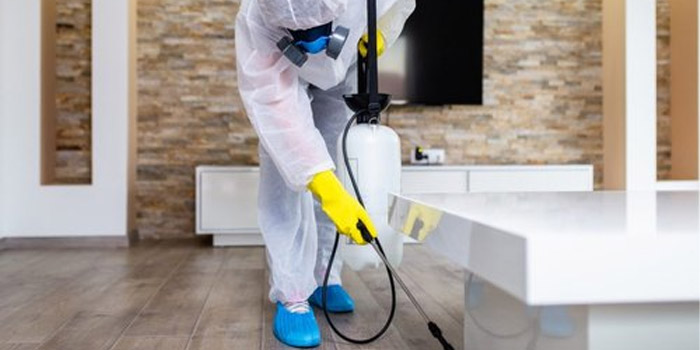 A quick-spreading and infectious virus is a serious situation. On top of spreading through human contact, often the bacteria and germs found in these viruses can live on surfaces and objects for up to two weeks. Along with refraining from close personal contact with infected people, it's important to keep our daily environments safe and sanitized too. When it comes to disinfecting and sanitizing your home or office, Service Pros is fully trained and equipped to help.
What Happens During a Service Pros Virus Disinfection & Sanitation?
s mentioned, viruses often spread via human contact, however, it can also spread via respiratory droplets that are left on surfaces and objects. These infected droplets (from coughing and sneezing) that contain the virus can continue to live on a surface for several days or even weeks. If someone touches these surfaces or objects, and then touches their face, mouth, nose or eyes without washing their hands, is at serious risk of contracting the virus.
Here's How Service Pros Will Complete a Virus Disinfection & Sanitation:
Service Pros uses the approved CDC and EPA industrial-strength disinfectants to decontaminate and disinfect surfaces, objects, carpets, floors, walls, doors, and windows
We properly handle hazardous and infectious biohazard waste, such as infected materials
Service Pro's cleanup technicians are always dressed in fully encapsulated personal protective equipment with a full-face respirator masks
If your home or work have been infected by a virus, or you are simply taking precautionary measures, Service Pros is here to assist. Our team members are trained and have been certified by the IICRC – the Institute of Inspection, Cleaning and Restoration Certification. As professional restoration experts, we have all the necessary tools and equipment to handle virus sanitization and virus disinfection. Service Pros will do everything in our power to help prevent the spread of a virus and provide you, your family and your company with safe environments.
After all, it's better to be safe than sorry, call Service Pros for Virus Disinfection & Sanitation today.
We are available 24/7 for Virus Disinfection Services in Hollywood, Florida. Residential & Commercial. Licensed & Insured. Free evaluation. Insurance Billing.